Daniel Smith Watercolour Sticks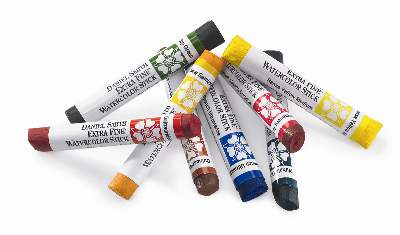 DANIEL SMITH EXTRA FINE WATERCOLOUR STICKS are a new, extremely versatile, true-multimedia artist tool, putting the power of drawing and painting together in one unique tool!
For sketching, developing colour values and bold expressions, DANIEL SMITH EXTRA FINE WATERCOLOUR STICKS are a truly valuable addition to every artists' palette. All colours are rated Lightfast I – Excellent.
Each stick is packed with pure pigment and produces vibrant, strong colour when wet or use them dry to build texture. They're highly reactive with water and release rich, creamy colours. They are currently available in 40 colours. Other features:
Easy to use
Superior properties vs. half pans
Blends perfectly with DANIEL SMITH EXTRA FINE WATERCOLOURS
Sensational results when applied to wet paper
Great highlight enhancer for all watercolour paintings
Long lasting
Very portable - great for plein aire and travel
Handmade and hand-formed from pure pigment
Made in the USA by artists for artists
Each stick is approximately 3" long and ½ " in diameter
Represent great value when comparing pigment content and quality.